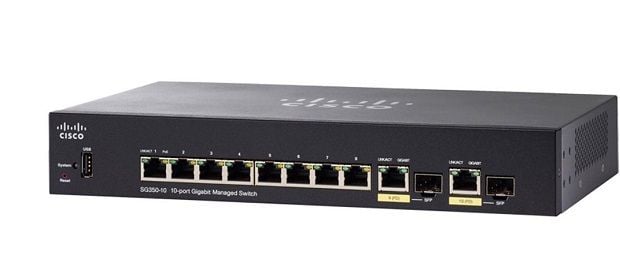 Switch Cisco SG350-10 10-ports (SG350-10-K9)
8-port Gigabit + 2 Combo mini-GBIC ports.
Hỗ trợ PoE passthrough thông qua 2 cổng Gigabit Uplink.
Performance: Switching capacity 20.0 Gbps, nonblocking, Forwarding rate 14.88 mpps wire-speed performance.
Layer 2: Port grouping up to 8 ports per group with 16 candidate ports for each (dynamic) 802.3ad link aggregation, Number of VLANs 256 active VLANs (4096 range), Head-of-line (HOL) blocking HOL blocking prevention.
Layer 3: IPv4 routing Wirespeed routing of IPv4 packets, Up to 512 static routes and up to 128 IP interfaces, Classless Inter-Domain Routing (CIDR) support for CIDR.
Tham khảo datasheet về các tính năng của Switch : Performance, Layer 2 Switching, Layer 3, Security, Quality of Service, Standards, IPV6, Management, ...
Model
SG350-10-K9-EU
Performance
Switching capacity and forwarding rate
Capacity in Millions of Packets per Second (mpps) (64-byte packets): 14.88
All switches are wire speed and nonblocking
Switching Capacity in Gigabits per Second (Gbps): 20
USB slot
For file-management purposes
Total System Ports
10 Gigabit Ethernet
RJ-45 Ports
8 Gigabit Ethernet
Combo Ports (RJ‑45 + SFP)
2 Gigabit Ethernet combo
Layer 2 Switching
Spanning Tree Protocol
Standard 802.1d Spanning Tree support
Fast convergence using 802.1w (Rapid Spanning Tree [RSTP]), enabled by default
8 instances are supported
Multiple Spanning Tree instances using 802.1s (MSTP)
Port grouping
Support for IEEE 802.3ad Link Aggregation Control Protocol (LACP): Up to 8 groups, Up to 8 ports per group with 16 candidate ports for each (dynamic) 802.3ad link aggregation
VLAN
Support for up to 4096 VLANs simultaneously
Port-based and 802.1Q tag-based VLANs
MAC-based VLAN
Management VLAN
Private VLAN Edge (PVE), also known as protected ports, with multiple uplinks
Guest VLAN
Unauthenticated VLAN
Dynamic VLAN assignment via RADIUS server along with 802.1x client authentication
CPE VLAN
Voice VLAN
Voice traffic is automatically assigned to a voice-specific VLAN and treated with appropriate levels of QoS
Auto voice capabilities deliver networkwide zero-touch deployment of voice endpoints and call control devices
Multicast TV VLAN
Multicast TV VLAN allows the single multicast VLAN to be shared in the network while subscribers remain in separate VLANs (also known as MVR)
Q-in-Q VLAN
VLANs transparently cross a service provider network while isolating traffic among customers
Generic VLAN Registration Protocol (GVRP)/Generic Attribute Registration Protocol (GARP)
Protocols for automatically propagating and configuring VLANs in a bridged domain
Unidirectional Link Detection (UDLD)
UDLD monitors physical connection to detect unidirectional links caused by incorrect wiring or cable/port faults to prevent forwarding loops and blackholing of traffic in switched networks
Dynamic Host Configuration Protocol (DHCP) Relay at Layer 2
Relay of DHCP traffic to DHCP server in different VLAN; works with DHCP Option 82
Internet Group Management Protocol (IGMP) versions 1, 2, and 3 snooping
IGMP limits bandwidth-intensive multicast traffic to only the requesters; supports 1K multicast groups (source-specific multicasting is also supported)
IGMP Querier
IGMP querier is used to support a Layer 2 multicast domain of snooping switches in the absence of a multicast router
Head-Of-Line (HOL) blocking
HOL blocking prevention
Loopback Detection
Loopback detection provides protection against loops by transmitting loop protocol packets out of ports on which loop protection has been enabled. It operates independently of STP
Jumbo frames
Up to 9K (9216) bytes
Layer 3
IPv4 routing
Wirespeed routing of IPv4 packets
Up to 1K static routes and up to 128 IP interfaces
IPv6 routing
Wirespeed routing of IPv6 packets
Classless Interdomain Routing (CIDR)
Support for CIDR
Layer 3 Interface
Configuration of Layer 3 interface on physical port, LAG, VLAN interface, or loopback interface
DHCP relay at Layer 3
Relay of DHCP traffic across IP domains
User Datagram Protocol (UDP) relay
Relay of broadcast information across Layer 3 domains for application discovery or relaying of bootP/DHCP packets
DHCP Server
Switch functions as an IPv4 DHCP server serving IP addresses for multiple DHCP pools/scopes
Support for DHCP options
Security
Secure Shell (SSH) Protocol
SSH is a secure replacement for Telnet traffic. SCP also uses SSH. SSH v1 and v2 are supported
Secure Sockets Layer (SSL)
SSL support: Encrypts all HTTPS traffic, allowing highly secure access to the browser-based management GUI in the switch
IEEE 802.1X (Authenticator role)
802.1X: RADIUS authentication and accounting, MD5 hash; guest VLAN; unauthenticated VLAN, single/multiple host mode and single/multiple sessions
Supports time-based 802.1X
Dynamic VLAN assignment
Web-based authentication
Web based authentication provides network admission control through web browser to any host devices and operating systems
STP Bridge Protocol Data Unit (BPDU) Guard
A security mechanism to protect the network from invalid configurations. A port enabled for BPDU Guard is shut down if a BPDU message is received on that port
STP Root Guard
This prevents edge devices not in the network administrator's control from becoming Spanning Tree Protocol root nodes
DHCP snooping
Filters out DHCP messages with unregistered IP addresses and/or from unexpected or untrusted interfaces. This prevents rogue devices from behaving as DHCP Servers
IP Source Guard (IPSG)
When IP Source Guard is enabled at a port, the switch filters out IP packets received from the port if the source IP addresses of the packets have not been statically configured or dynamically learned from DHCP snooping. This prevents IP Address Spoofing
Dynamic ARP Inspection (DAI)
The switch discards ARP packets from a port if there are no static or dynamic IP/MAC bindings or if there is a discrepancy between the source or destination addresses in the ARP packet. This prevents man-in-the-middle attacks
IP/MAC/Port Binding (IPMB)
The preceding features (DHCP Snooping, IP Source Guard, and Dynamic ARP Inspection) work together to prevent DOS attacks in the network, thereby increasing network availability
Secure Core Technology (SCT)
Makes sure that the switch will receive and process management and protocol traffic no matter how much traffic is received
Secure Sensitive Data (SSD)
A mechanism to manage sensitive data (such as passwords, keys, and so on) securely on the switch, populating this data to other devices, and secure autoconfig. Access to view the sensitive data as plaintext or encrypted is provided according to the user-configured access level and the access method of the user
Layer 2 isolation Private VLAN Edge (PVE) with community VLAN
PVE (also known as protected ports) provides Layer 2 isolation between devices in the same VLAN, supports multiple uplinks
Port security
The ability to lock source MAC addresses to ports and limits the number of learned MAC addresses
RADIUS/TACACS+
Supports RADIUS and TACACS authentication. Switch functions as a client
Storm control
Broadcast, multicast, and unknown unicast
RADIUS accounting
The RADIUS accounting functions allow data to be sent at the start and end of services, indicating the amount of resources (such as time, packets, bytes, and so on) used during the session
DoS prevention
Denial-Of-Service (DOS) attack prevention
ACLs
Support for up to 512 rules
Drop or rate limit based on source and destination MAC, VLAN ID or IP address, protocol, port, Differentiated Services Code Point (DSCP)/IP precedence, TCP/UDP source and destination ports, 802.1p priority, Ethernet type, Internet Control Message Protocol (ICMP) packets, IGMP packets, TCP flag, time-based ACLs supported
Quality of Service
Priority levels
8 hardware queues
Scheduling
Strict priority and Weighted Round-Robin (WRR)Queue assignment based on DSCP and class of service (802.1p/CoS)
Class of service
Port based; 802.1p VLAN priority based; IPv4/v6 IP precedence/Type of Service (ToS)/DSCP based; Differentiated Services (DiffServ); classification and remarking ACLs, trusted QoS
Rate limiting
Ingress policer; egress shaping and rate control; per VLAN, per port, and flow based
Congestion avoidance
A TCP congestion avoidance algorithm is required to minimize and prevent global TCP loss synchronization
General
Jumbo frames
Frame sizes up to 9K (9216) bytes supported on 10/100 and Gigabit interfaces
MAC table
Up to 16K (16384) MAC addresses
Environmental
Dimensions
440 x 44 x 257 mm
Weight
3.58 kg
Power
100-240V 50-60 Hz, internal, universal